A Blog for Unreasonable People
by Josh Lowman
We're launching a blog, newsletter, and podcast called Category First. Here's why:

A year ago, we reinvented our brand studio to focus on helping startups create new market categories. It was a terrifying thing to undertake. After all, Gold Front is my livelihood and a source of professional pride. What if this new offering never caught on with clients and we slowly dwindled away? But the advice I received from David C. Baker and my chief consiglieri, Moeka, steadied me. They advised me to go forward, take a risk.

So we're no longer a brand studio, but instead, the first-ever category design studio. Yes, we created our own category. Why would we do otherwise? According to the bible of category design, Play Bigger, research shows that category creators capture 76% of all category profits. And category creators get to show the world how it's done.

Today we work exclusively with startups who want to create and lead their own category. (Category is important because it's how our minds make buying decisions, even before brand. You decide to buy a sedan or truck before you consider which brand.) There are a few very good category design consultancies that focus solely on the strategy of inventing something new. And some great brand studios that serve startups. But we're the first to combine category strategy with brand creative under one roof. After our strategy team designs the category alongside our clients, our team of designers, writers, and filmmakers creates a "category brand" that takes them from category idea to reality.

This solves a huge problem for startups that, when hiring an agency, are forced to choose between companies that specialize in either category or brand. At our category design studio, clients are no longer required to make this choice. We combine category and brand, strategy and craft, business and creativity. Gold Front is the first holistic category creation studio.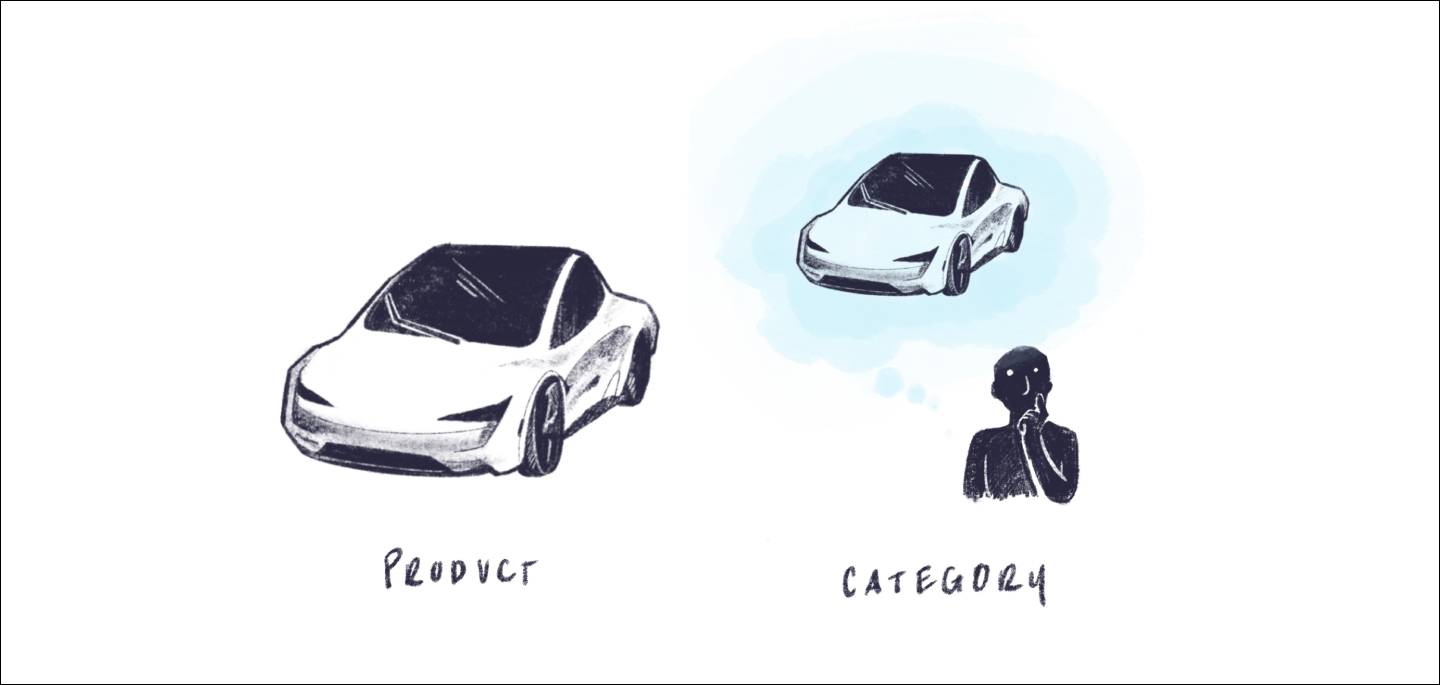 There's a deeper goal at work here. We want to see category creation done in a humanist, purpose-driven way. Creating our own category helps even with that—giving us license to frame the conversation about what our collective future should look like in ways we couldn't as a brand studio.

One year in, and so far so good. Instead of slipping into obscurity, we thrived. Creating our own category worked—generating interest in Gold Front and connecting us to new clients with ambitions that required our holistic approach. Over the last 12 months, we've helped over a dozen high-flying startups design their category then build their brand.

So why the blog? Because there is an urgent need to champion category design throughout the startup world. We're at an inflection point, and these ideas have the power not just to grow startups but to help them become more purpose-driven.

Most founders are taught that category creation is too hard to do. There's an idea that the way to succeed is to take something that already exists and improve it—make it faster, smarter, more user-friendly. It's crazy. Every founder I know dreams of doing something big. Chasing incremental improvements is no way to transform an industry or build a company of uncommon value. Of course, we all know this. And yet we let the voices that urge us to "play it safe" haunt us at night.

Category First exists to fight "good enough." It's a bat signal to all those who've been called "unreasonable," delivering knowledge, advice, and moral support to category creators everywhere.

Why "Category First?" Because startups should look at every idea, decision, and initiative through the lens of category first. Does it get you to different? Or more of the same? It's a powerful lens we've used with dozens of clients; a device that can be used by anyone working at a startup who happens to have big dreams.

In the coming weeks, we'll show you how to put this simple device to work in every aspect of your business. And we'll pull back the curtain on what we do here at Gold Front, openly sharing the tools we use to do strategy and design, so you can freely apply our principles and techniques. No strings attached.

Together we can beat back "good enough."

The future will look nothing like today. It will consist of thousands of new categories that change the way we work and live. The only questions to be answered are "What will that change look like?" and "Who will lead it?" Holistic category design is the best tool for answering those questions directly.

So join me. It's not just a blog, it's a community, a movement, a call-to-arms. As it rolls out, I'd love to hear what you think, especially when/if you disagree. There's much to be done and we can't afford to be precious about any of it.

Okay! If you're still here you're either an "unreasonable" category creator or a close relative. Either way, let's do this.